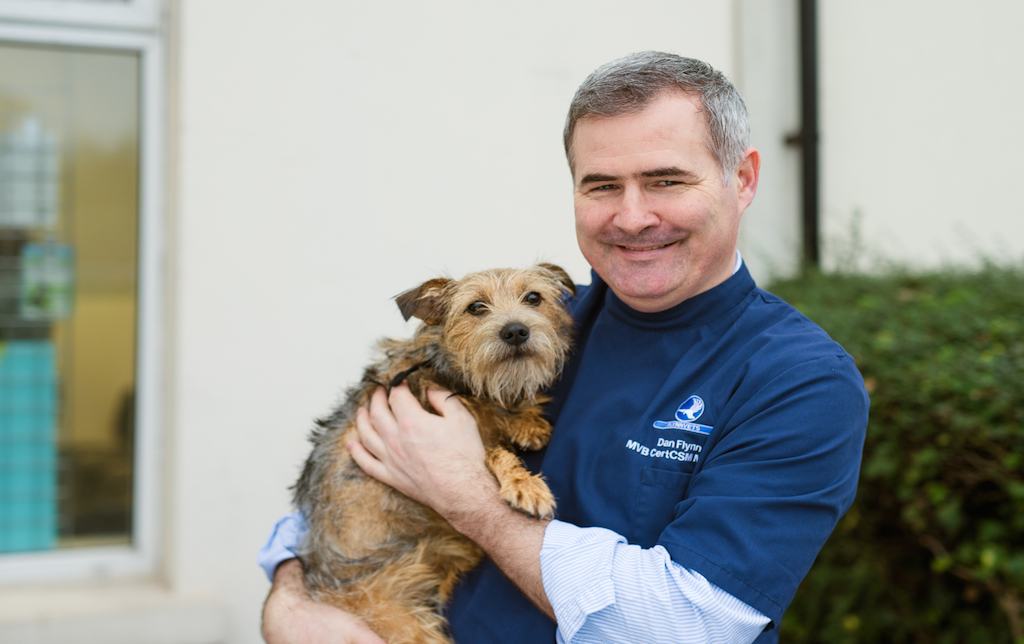 Dan Flynn MVB Cert CSM MRCVS
Veterinary Surgeon
I have spent the last 15 years in Small animal practice and set up Flynn Vets with my wife Catherine in 2008. We took over Balmoral Veterinary Centre in 2008 and then set up Commons Brae in early 2009 and, more recently, Ballynahinch in June 2018. The practices do run separately but we all function as one large team. I work across all 3 clinics and particularly enjoy dealing with skin cases and orthopedic problems. I relax playing golf and walking my dog Tazie (who features well in our pictures), and tending to my garden.
I have two girls keeping me busy at home, and they like to come in to the clinics and help me from time to time.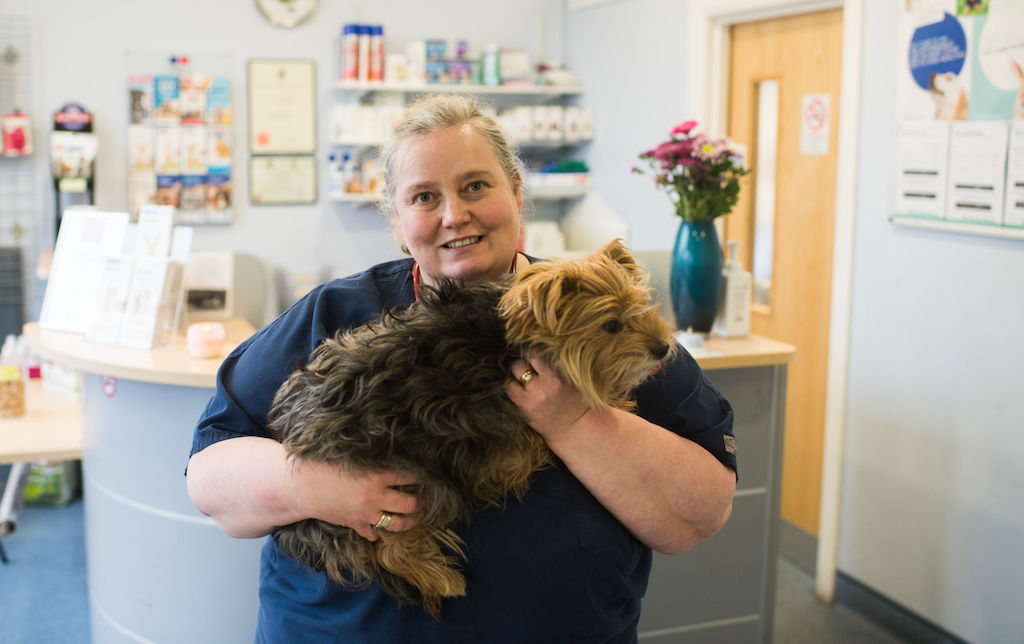 Clare Uludag MVB MRCVS
Veterinary Surgeon
A native of Cavan, Clare joined Flynn Vets in June 2015 having returned to Ireland from England where she spent her career in exclusively companion animal practice after qualifying in 1994. She is based at our Ballynahinch clinic where she enjoys meeting a wide variety of pets and their owners.
She is primarily interested in medicine and soft tissue surgery with a particular soft spot for her feline patients.
Having spent the majority of her professional life working in a hectic veterinary hospital and emergency clinic in Manchester, she enjoys the slower pace of life in Northern Ireland and spends her spare time with her husband and young family.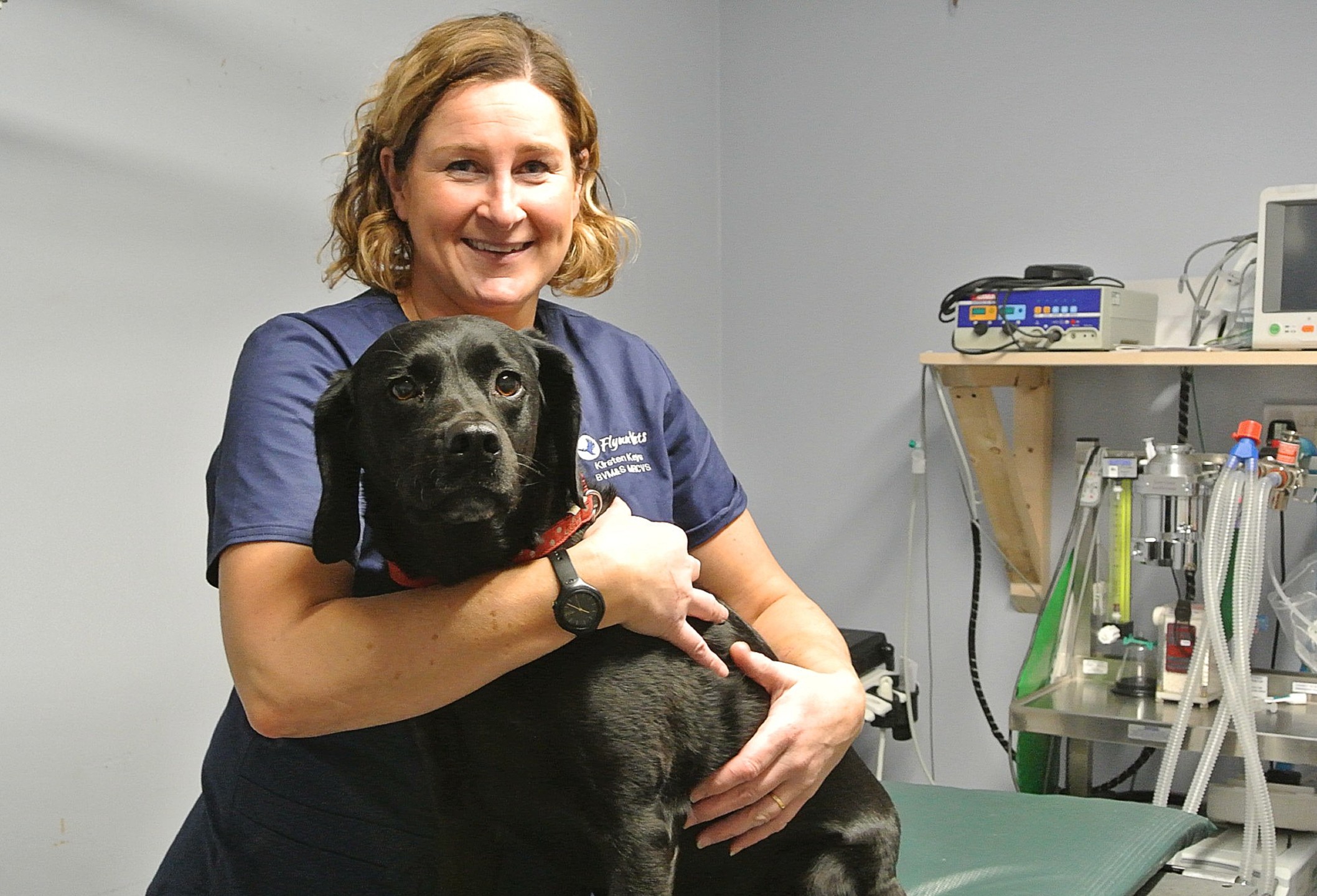 Kirsten Keys BVM&S MRCVS
Veterinary Surgeon
Kirsten qualified from Edinburgh University in 1996 and after a few years in mixed practice, spent 19 years at Clare Veterinary Hospital fine tuning her medical, surgical and ultrasound skills. In October 2020 Kirsten moved to Flynn Vets to embark on a new challenge, using those skills to hopefully further expand the expertise of the exciting Flynn Vets team. Kirsten's particular passion is the more challenging 'medical mysteries'. She loves getting to the bottom of a difficult case! When not working, Kirsten enjoys hill walking with her husband, 2 children and dog….. also yoga and socialising with friends!
Aoife Reid MVB MRCVS
Veterinary Surgeon
Kayleigh Hooker DVM MRCVS
Veterinary Surgeon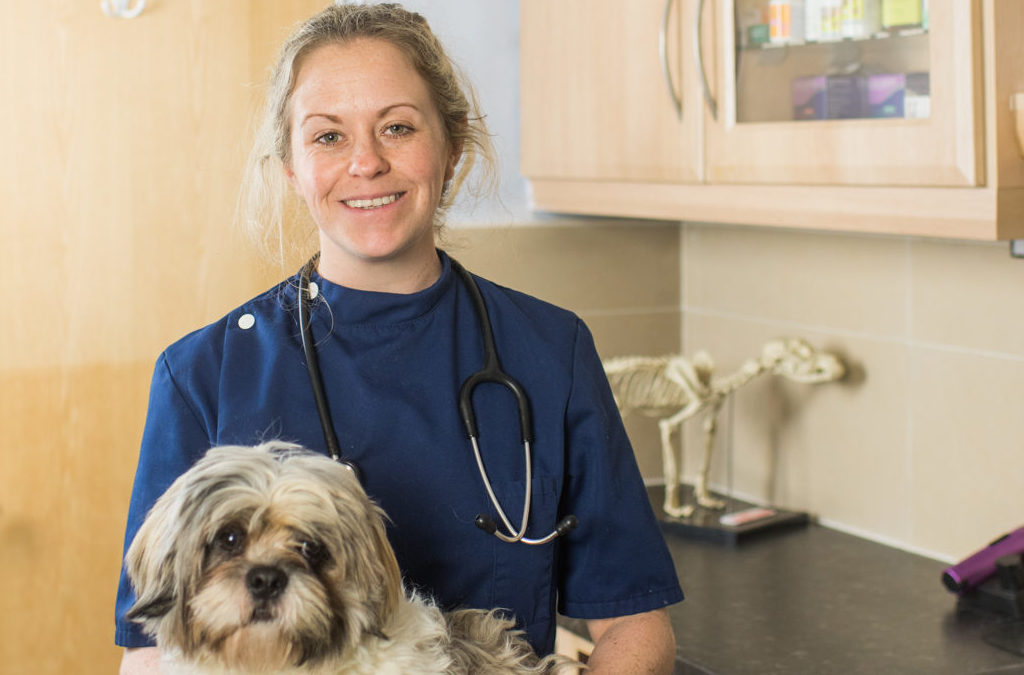 Anna McCann BVMS MRCVS
Veterinary Surgeon
Anna was born and raised in Belfast and was always surrounded by her cats and horses. Anna graduated with commendation from University of Glasgow in 2005.
Anna developed a special interest in feline medicine and also worked for over a year in a busy emergency clinic where she gained invaluable experience in critical care medicine. She also has a passion for building relationships with owners and truly understands the importance of providing a friendly, trustworthy and caring environment
for owners as well as their beloved pets. Anna recently moved back to Belfast and began working at Flynn Vets in January 2017 where she continues her love of small animal medicine and owner relationships.
Johanna Sloan MVB MRCVS
Veterinary Surgeon
Ciara Murray MVB MRCVS
Veterinary Surgeon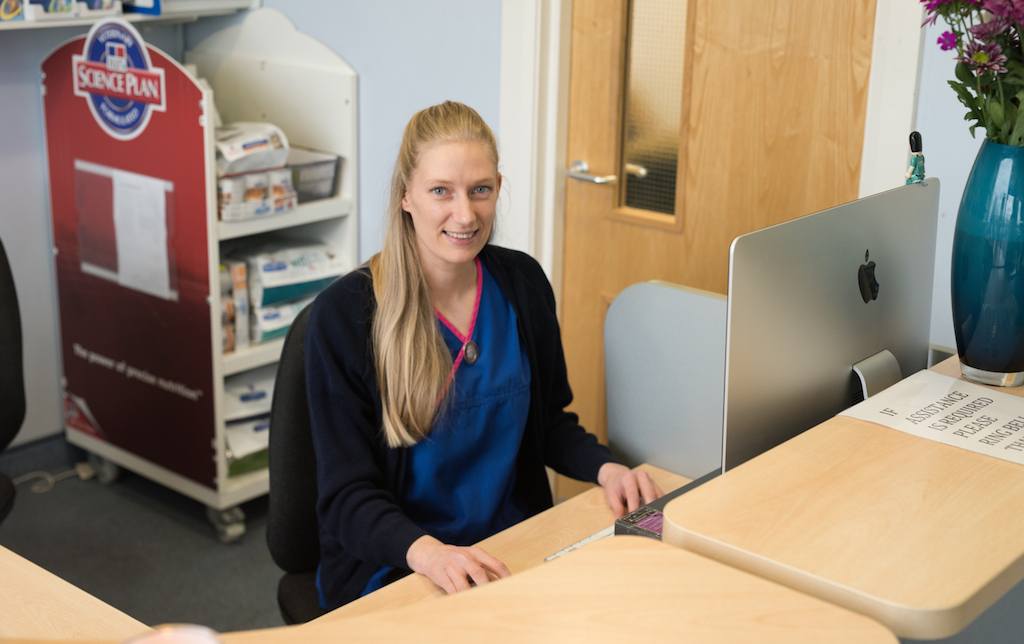 Sarah is a local girl and a very familiar face at our Commons Brae clinic. She qualified as a veterinary nurse in 2010 and has been with us since then and has enjoyed watching the clinic grow and making friends; especially the furry ones. She especially enjoys performing radiography procedures. In her spare time she can mostly be found at the riding stables where she keeps her two Shetland ponies. She also has a keen interest in motorsport.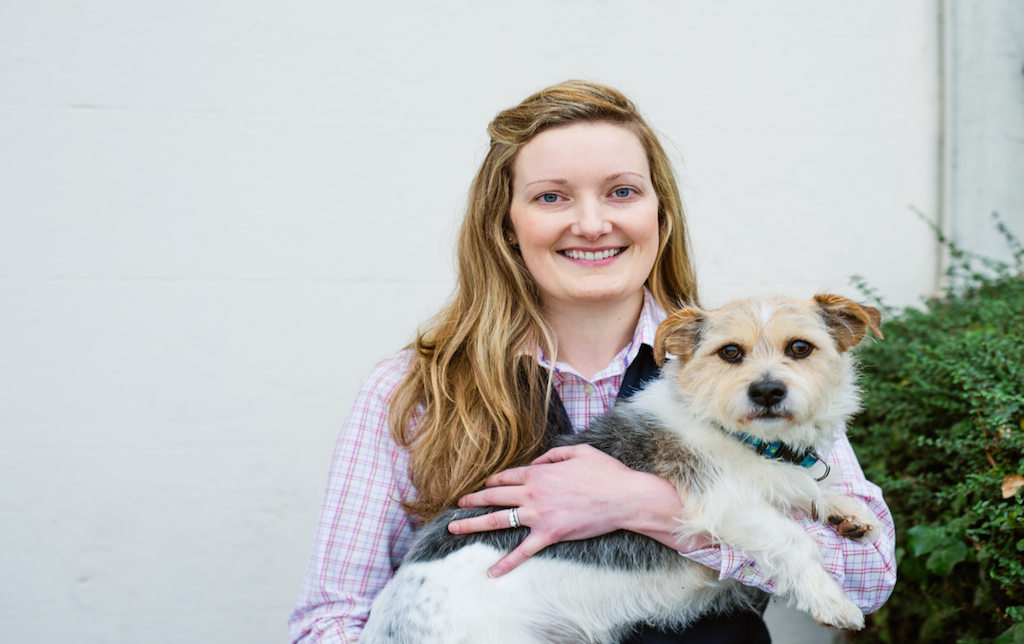 Debbie Armstrong
Registered Veterinary Nurse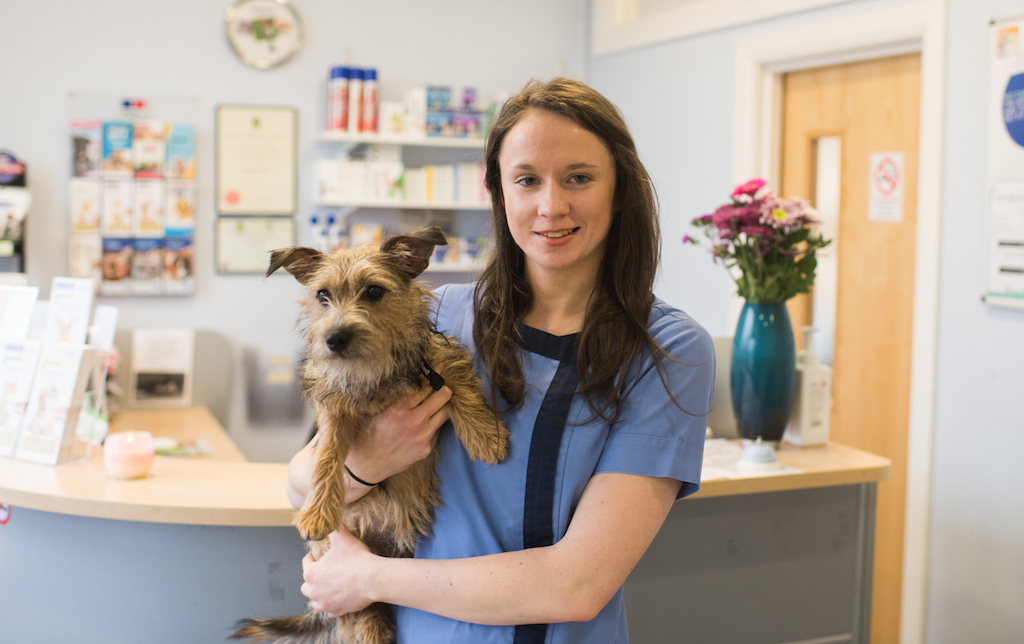 Michelle Darby
Registered Veterinary Nurse
Michelle qualified as a veterinary nurse in 2017. She joined our Balmoral branch in 2012 whilst completing an Animal Management course. She always had a passion for animals from a young age and, with hard work and dedication, worked her way up to achieve her goals to become a RVN and now enjoys caring for animals everyday. Michelle has dogs and small furries of her own. She also enjoys being artistic and creates special paw print keepsakes for patients and their owners.
Leanne Green
Registered Veterinary Nurse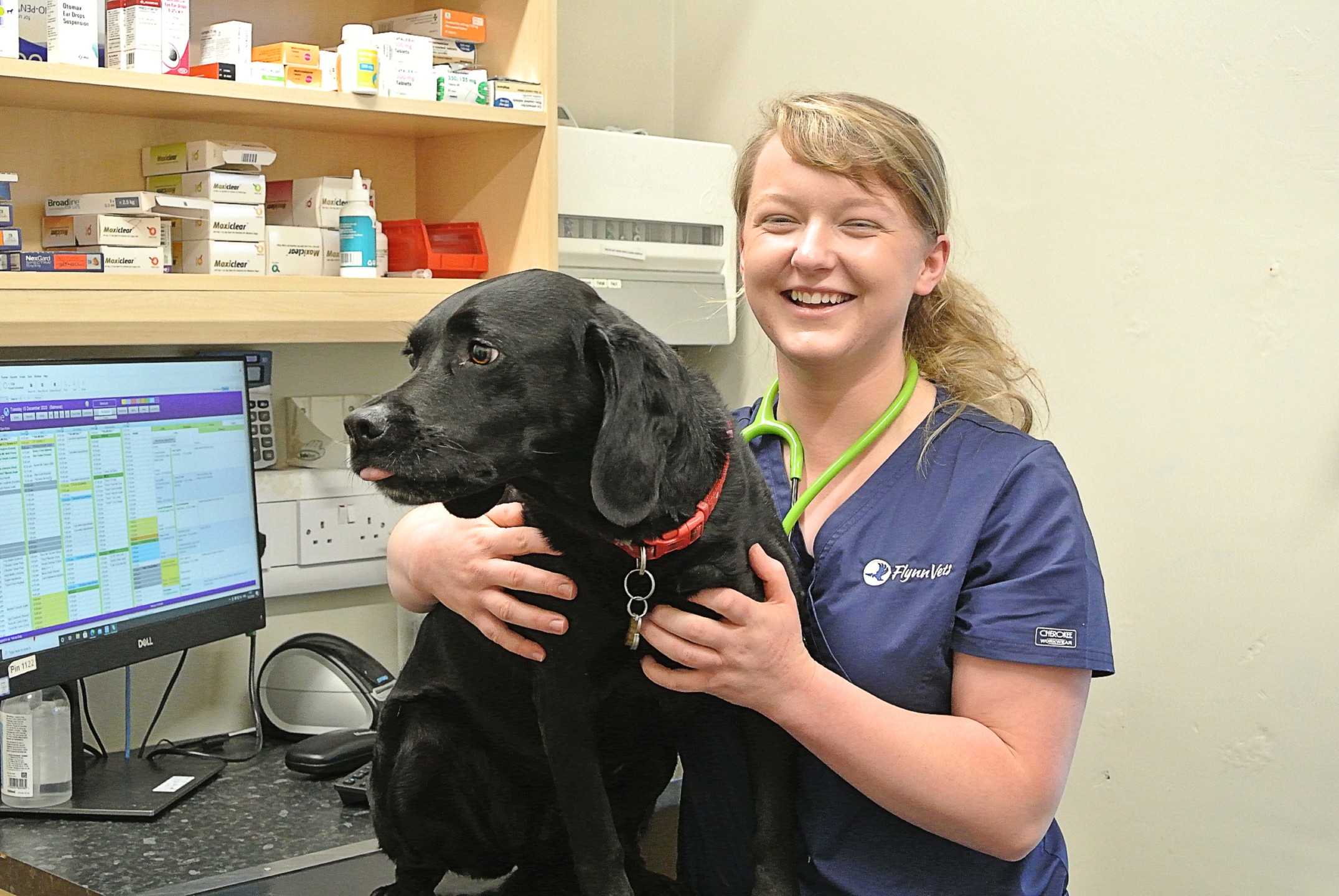 Amy Griffith
Registered Veterinary Nurse
Nicola Andrews
Registered Veterinary Nurse
Megan Devlin
Registered Veterinary Nurse
Gemma Vance
Registered Veterinary Nurse
Toni Dobbs
Registered Veterinary Nurse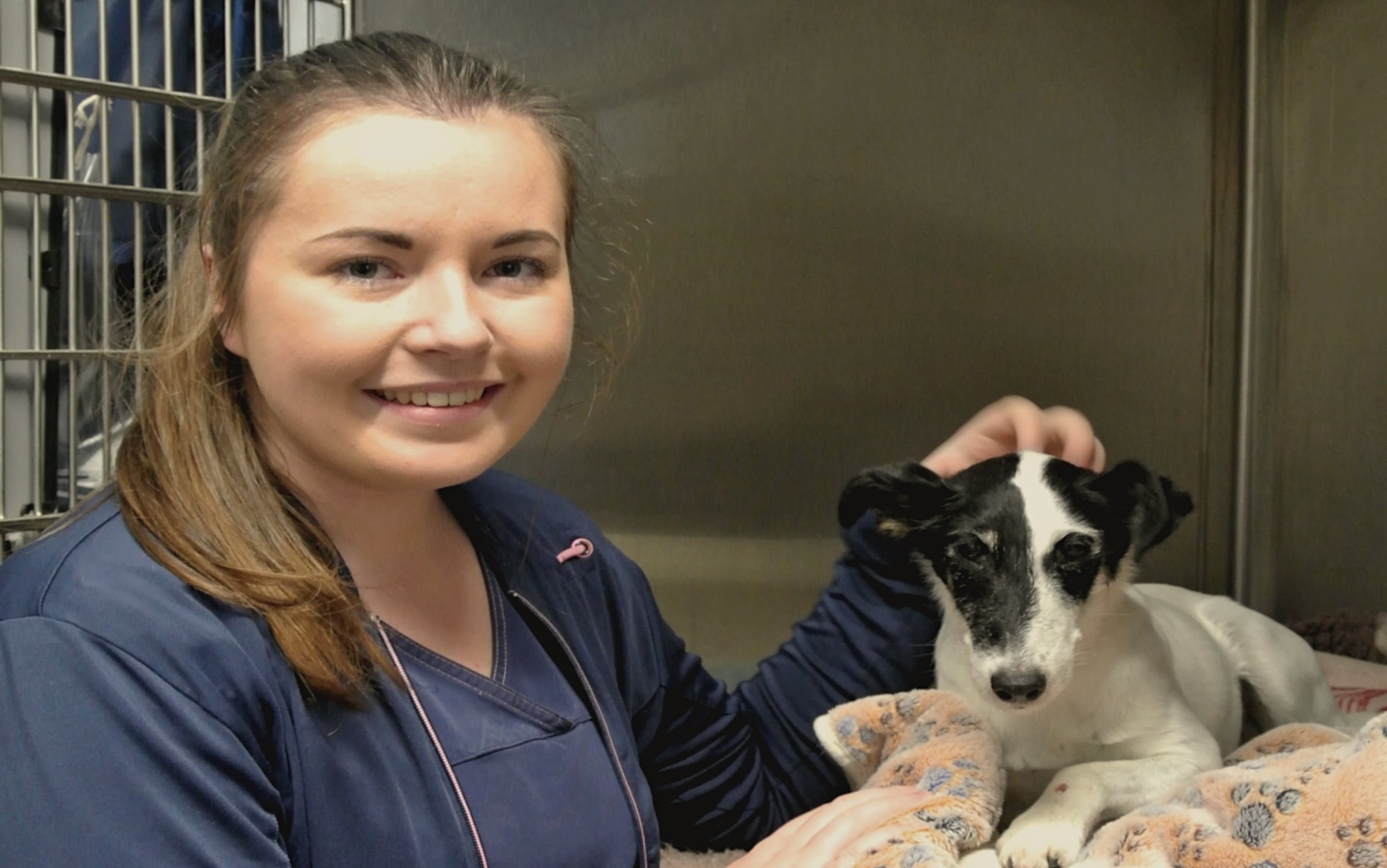 Sarah McGivern
Registered Veterinary Nurse
Sarah first joined Flynn Vets in 2017 to help out in The doG room. Later that year she started her Veterinary Nursing training at Greenmount College and became one of our Student nurses. Sarah is a familiar face at the Commons Brae and Balmoral clinics and she qualified as a Veterinary Nurse in 2023. She has a labradoodle called Inka who keeps her busy outside of work.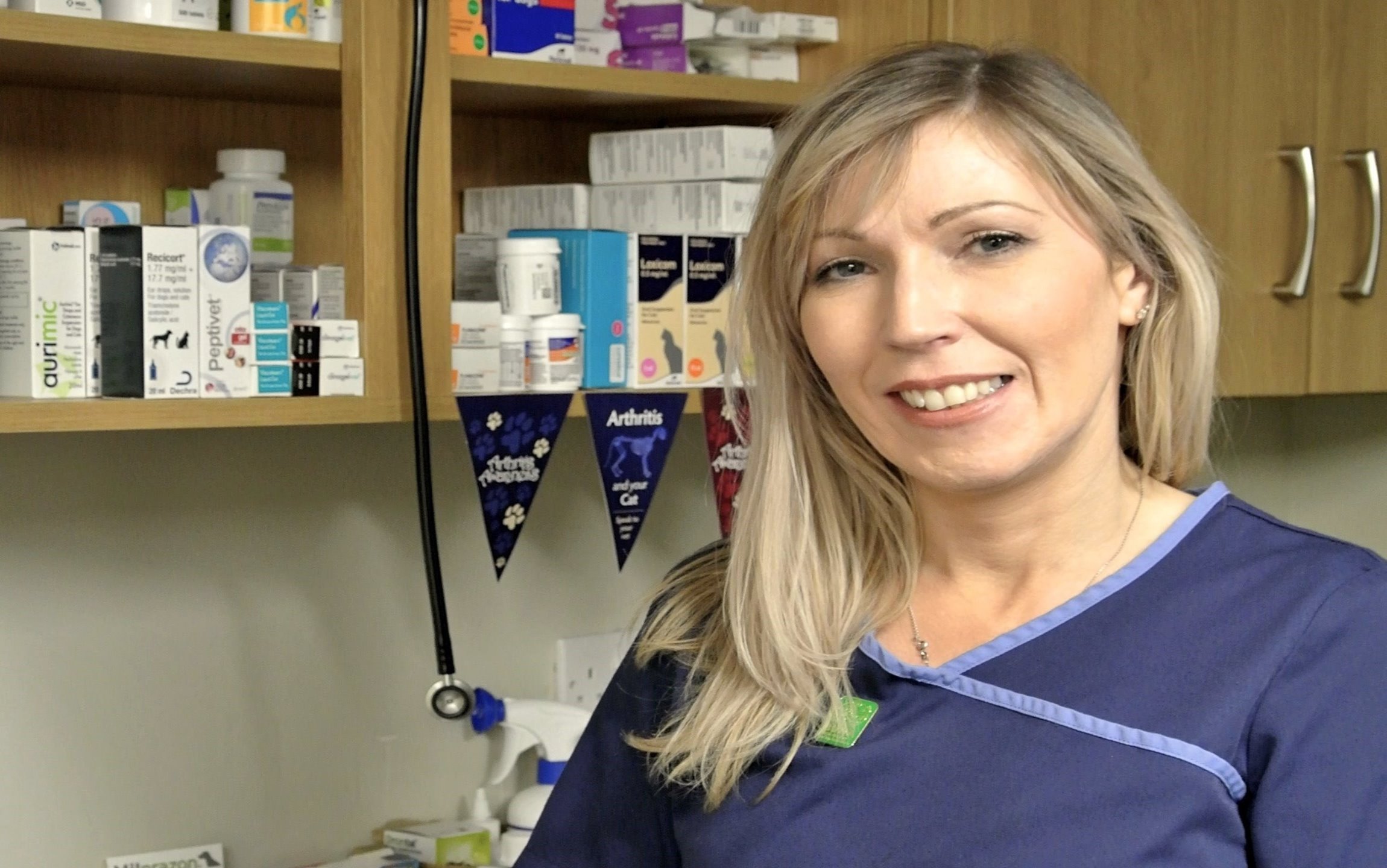 Helen Stewart
Animal Nursing Assistant
Helen gained a Level 2 Veterinary Nursing Assistant diploma from Greenmount College in 2017. She joined Flynn Vets in 2018 and is a one of the key staff at our Ballynahinch clinic. Helen loves working with the variety of animals she sees each day at the clinic and she has two dogs, two horses and three cats who all keep her busy on her time off.
Michelle Stewart
Receptionist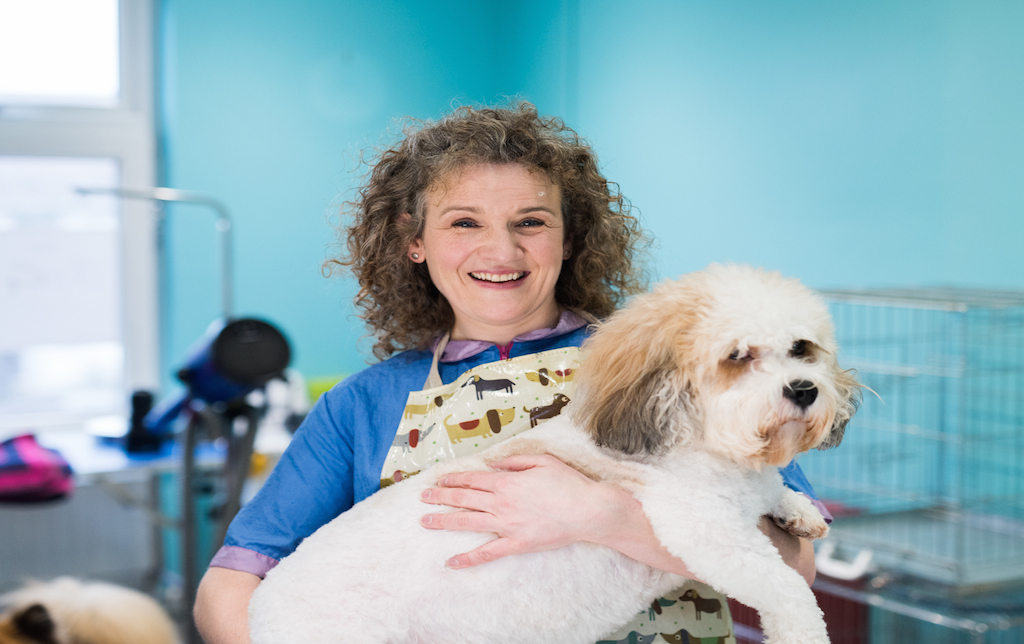 Katrina Skuce
Practice Manager
Katrina joined the team at Flynn Vets Balmoral to open The doG room in 2013. After taking a degree in Zoology at university she gained experience in a number of other fields, before completing a professional dog grooming course.
In 2018, Katrina moved from her grooming position to assist with management of the practices.
Outside of work, Katrina is owned by 3 large, hairy dogs and enjoys time in the garden, especially when the sun is shining!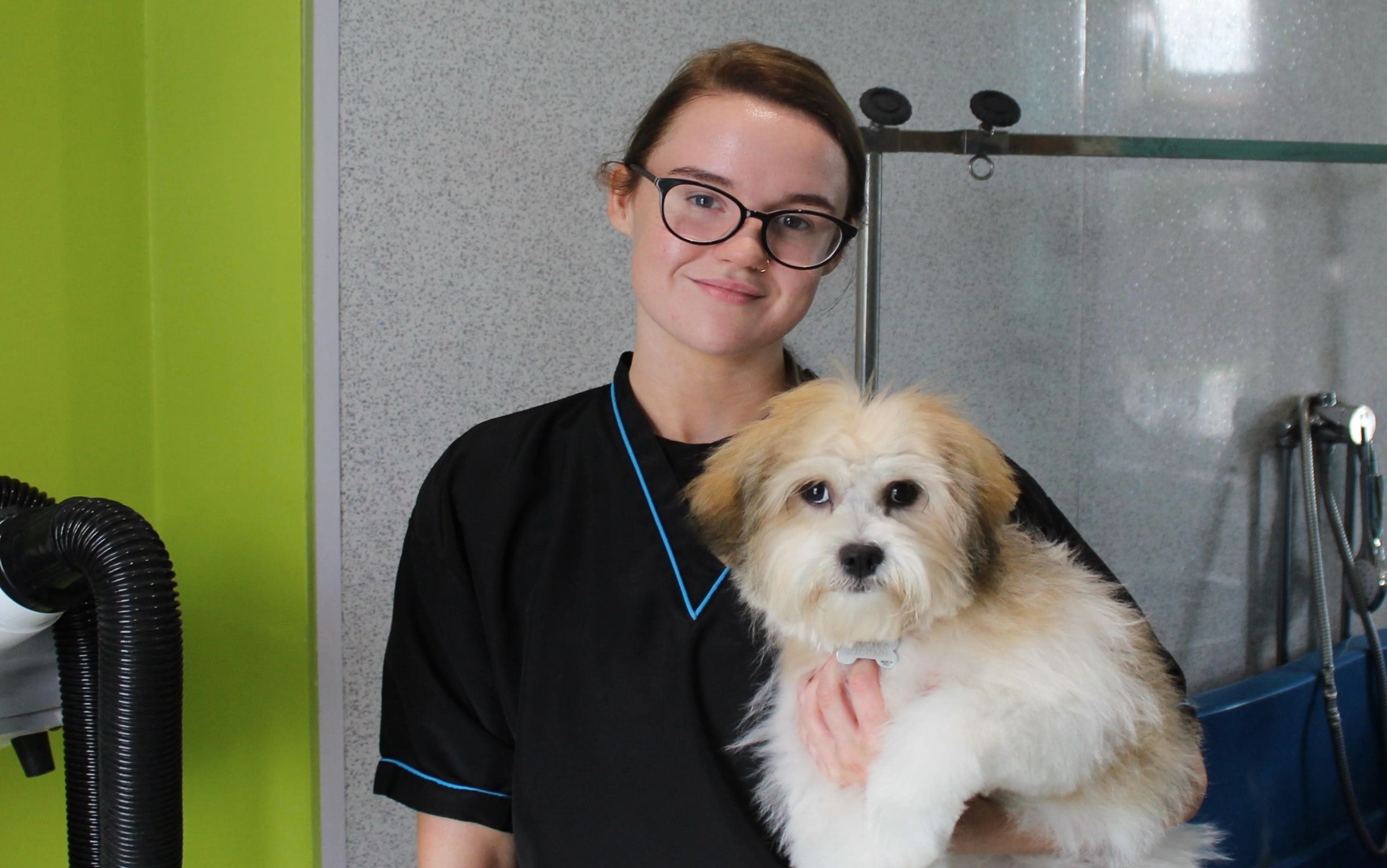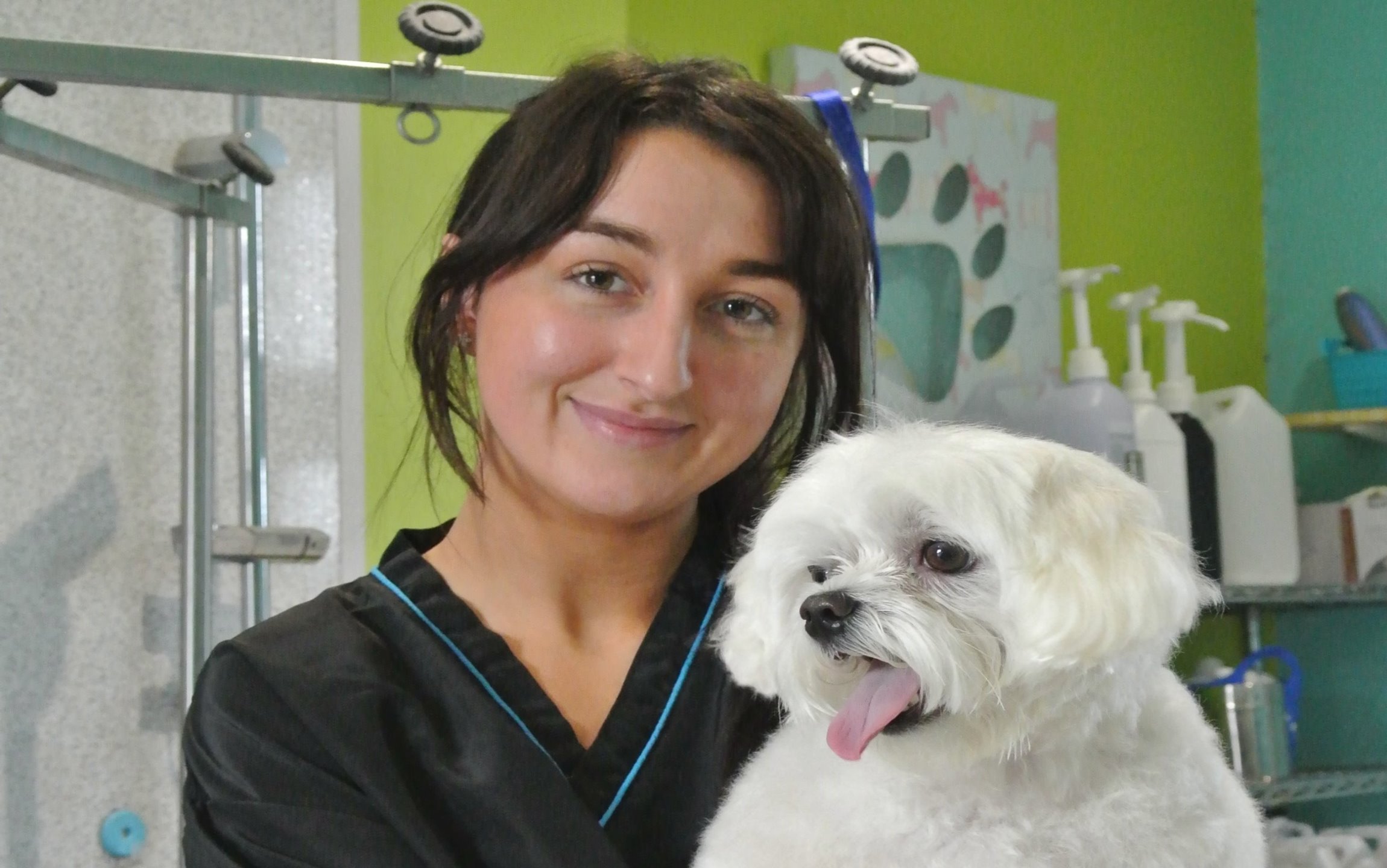 Kerry Crawford
Dog Groomer